We have just released several new enhancements to On-Time Web.  Our biggest new feature is the integrated employee leave accruals.  Contact us for more information or current customers can read the help manual.
Employee Leave Accruals
Create accrual rules for hourly, monthly or annual company policies.  You can create unlimited custom accrual rules that contain as many levels of years of service as you need .  Those rules can then be applied to different employees' leave codes for each employee.  Choose to calculate monthly or annual accruals automatically based on the rules or to manually run them with a click of a button. Hourly rules are automatically applied when employee time is approved.  If the time is unapproved that accrued time is removed from the employee's balance.
Accrual Rules screenshots:
2)  Auto-In & Auto-Out Time Completion Options
There are two new options on the Punch Settings tab in Settings & Defaults that enable/disable assistance with employee punches.  Previously, On-Time Web would always attempt to assist with employees' "bad" punches.  For example, If an employee was punched IN and they tried to punch in again the system would make an auto-out punch for that first record in order to complete it, and then make the new IN punch.  On the other side of that if an employee was not punched IN at all and punched OUT the system would do an auto-in to make a complete record. This sometimes caused more confusion than offered help with employee time.  We now have options to enable or disable that assist functionality.
3)  Personnel Reports
There are 3 new employee personnel reports.  The Contact List shows address and contact information for the selected employees. The Employee Anniversary Report shows the selected employees' anniversary date and total years of service based on the hire date.  The last report is the Important Dates Report which shows all important dates relevant to each employee such as hire date, termination date, last login date, and last time transaction date.
4)  In/Out Board Pop-Out Window – Desktop Notifications
If using the In/Out Board in the Pop-Out Window there is an ability to view new notifications from employee status changes.  The first time you must allow on-time web to access certain resources.  The popup window will ask you if you want to allow notifications.  Once you have said yes evertime an employee's status changes you will get the notification directly on your desktop no matter what windows you may have open. This option is available for Google Chrome, Safari on Macs, FireFox, Edge and Opera (Not supported in IE).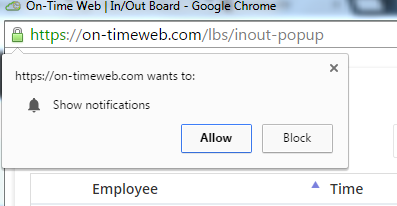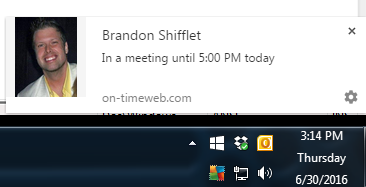 5)  New Employee Status Option
There is a new option on how long to keep employee status messages on the In/Out Board.  if the option is set to 0 days then the status is automatically cleared after a new punch has been made.  Otherwise it is kept for the set amount of days and then deleted.
6)  New Login Screen with Login Message
The login screen has been redesigned to look friendlier when it comes to background images and company logos.  There is also a new option to set a short login screen message. that shows right below the company name on the login screen.  You can change the default login screen message under Themes.
7)  Other Miscellaneous
– Menu Changes:  Settings main menu name has now changed to Company Setup
– Reallocate Time:  This screen can now do bulk edits for multiple employee records that meet the criteria instead of just splitting time.