Healthcare Time Tracking Made Simple
The healthcare industry is one of the world's largest and fastest-growing sectors. With employment rates increasing each month drastically, a reliable time tracking solution is needed to record employee time accurately. On-Time Web is perfect for hospitals, medical centers, offices, home health positions and other medical facilities.
We understand the different environments included in the healthcare industry. Some are fast paced, some are in an office setting, and some involve traveling to various sites. We have the right solutions for whatever environment you're in.
When you choose the flexible and scalable On-Time Web as your healthcare time tracking software solution, you can capture accurate employee time using computers, departmental time clocks, even smartphone, and tablets when healthcare professionals are on-the-go.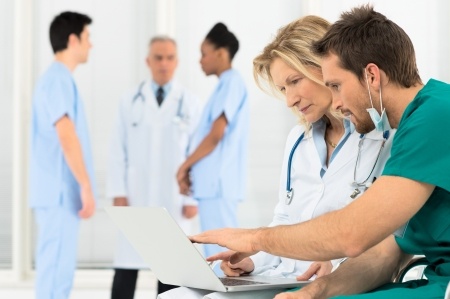 Your time tracking needs are covered with On-Time Web, which fully integrates with many ERP and accounting solutions:
Track Hours Your Way
The healthcare industry doesn't just track hours by shift or the usual 9 to 5. Instead, our costing fields can be configured to anything you need. The defaults are Job, Phase, and Task, but with a few edits, you can quickly change these to track hours by location, task, patient, room, etc. Now, you know precisely where employee hours are spent. You can even divide labor by department which is especially useful as employees move between departments during shifts.
Time Tracking On The Go
Many healthcare professionals travel to different hospitals or visit patients in their homes. Time tracking is still simple with our Android app for tablets and smartphones. Employees can log their time with a few clicks and not have to worry about having to remember to enter their hours later manually. This saves everyone valuable time that can be spent caring for patients.
Far Less Paperwork
On-Time Web provides punch style and timesheet entry for the mobile app and web form. Instead of needing to submit paper forms with hours listed, employees can enter their time from anywhere straight into your On-Time Web site. This reduces paperwork and prevents any lost paperwork.
All Healthcare Industries Covered
Some time tracking software only works with specific healthcare areas. Our software is designed for all healthcare industries. We work with assisted living, hospitals, mobile units, home health care workers, health industry businesses and many other areas. If you're in the healthcare niche, our software is perfect for you.
Include Notes on Every Entry
Sometimes employees need to spend extra time with a patient. Now they can quickly explain why straight on the timesheet. When employees enter their time, they can also enter patient notes. Supervisors immediately know the reason behind any time discrepancies with clear records..
Accurate Time Capture
No matter where or how employees enter their time, you can count on On-Time Web to capture it accurately. Plus, any data obtained is instantly synced with our servers. This means you see updated, accurate time entries immediately.
Simple Compatibility
As long as your payroll system accepts CSV file imports, On-Time Web is compatible with them. You can easily export all time entries to a CSV file and import it into your payroll system. It's quick, easy and accurate.
For more information on how On-Time Web can help with your healthcare time tracking needs, contact us today!