What People Are Saying About On-Time Web
Excellent! It is easy to use and Brandon has given excellent customer service :0)

I found the latest version is much easier to work with. Overall experience is positive.

The system is very easy to use. Its affordable and reliable.

We decided to move the company to the new On-Time Web application. With multiple locations, the web timesheet gave a practical solution for the retrieval of data from the clocks automatically thru the web for instant updating if desired. With the ease of use from todays electronics, the shop floor supervisors not only adapted quickly to the new system, but have commented on the ease of use. This product is very solid and a bargain at it's current price and support staff.

Customware has been a trusted partner of Haas Cabinet since 2001. The On-Time product is superb and relied on daily. Our recent migration to On-Time Web was seamless! On-Time Web allows us to track our direct labor cost by work center which will provide valuable data for us to analyze for key decision making. This cloud based storage solution allows us to rest easy concerning our labor tracking. We no longer fear losing our punches due to network, pc, or electrical failure. Kudos to the group for producing a great software piece that integrates directly with our payroll software. We could not be more pleased with the level of service and the product that Cusomware provides!

We use On-Time Web not only at my company but we also offer it to our retail accounting department. All of my customers that use it, love it! The support team is amazing if you ever need help with anything!

Before we started using On-Time Web, we were using a very outdated time clock system that was both time consuming, and difficult to use.  I am so glad that we decided to change to On-Time Web.  The On-Time Web system is very user friendly and less time consuming.  I would highly recommend On-Time Web to anyone that is tired of their old, outdated time clock system.

I have found it rare in working with many software vendors over the years that you find someone that you can not only trust, but truly enjoy working with. That has been the case with Customware.

We'd say, 'Well, can we do this?' And they'd say 'Sure!
Award-Winning Employee Timesheet and Leave Tracking Software
SAY HELLO TO EMPLOYEE TIME TRACKING MADE SIMPLE
On-Time Web™ is a web timesheet software solution that puts the power of employee time tracking, employee leave tracking and project tracking at your fingertips. The extensive available features, rich customization and simple payroll integration make our timesheet software the perfect choice for small businesses while the scaling architecture and employee-based pricing make it an easy choice for enterprise solutions.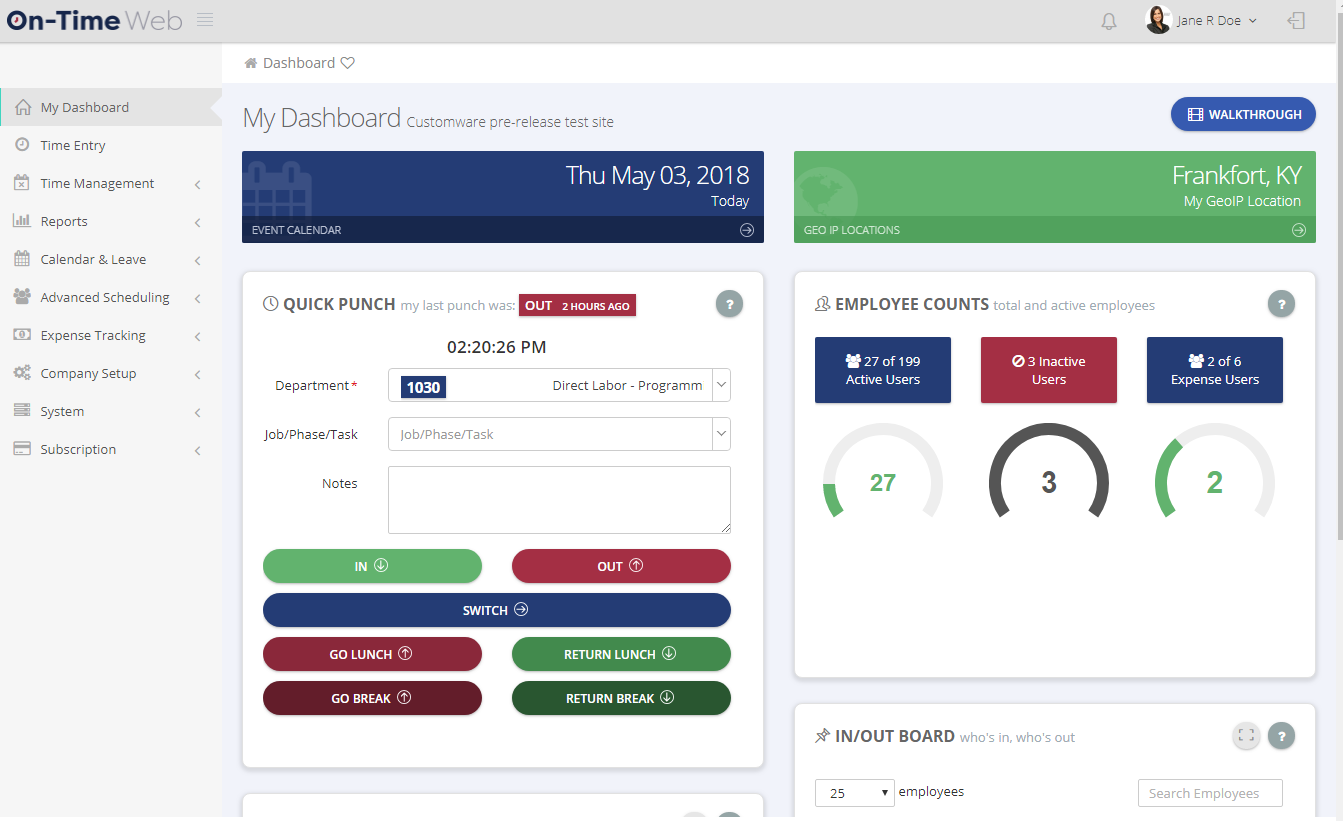 Any Device. Anywhere.
Track time from any device
Our employee timesheet and leave tracking software's modern user interface turns any desktop web browser into a powerful time tracker.
The On-Time Web Android and iPhone mobile time tracking apps include GPS location tracking and allow employees to punch or enter their time. They can also submit leave requests, view approved timesheets and see their dashboard.
The same mobile time tracking apps also have a supervisor mode, which allows the manager to make timesheet entries for all or some of their employees all at once.
The On-Time Web time clock mobile app for Android tablets works like a traditional time clock hanging on the wall.
Our OT1000 Smart Web Time Clock is a traditional time clock that can also work offline. Employees use RFID badges to make timesheet punches. Perfect for factories and the manufacturing industry!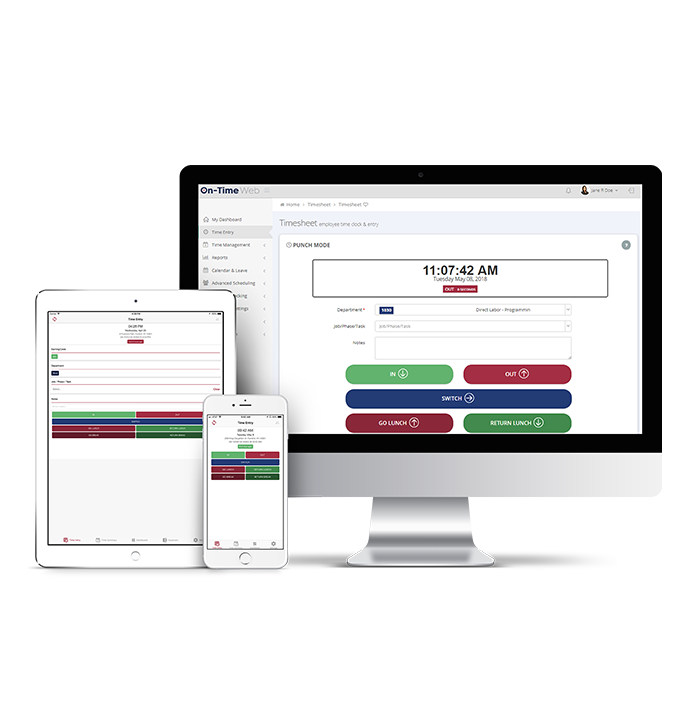 PERFECT FOR ANY SIZE COMPANY AND INDUSTRY
Competitive Pricing
There is no extra software to purchase or base fees in order to use our web timesheet software. Included training, unlimited support and free consulting allows us to be competitive and affordable when it comes to our prices.
Payroll Integration
Our easy to setup integration to your current payroll system, service or other software guarantees payroll is done in a timely manner. Allow our support staff to help with your time tracking integration needs.