Powerful Time Tracking for Staffing Agencies
Temporary staffing and temp agencies continuously struggle to keep payroll data accurate. With employees working at various locations, it's hard to ensure all hours are correct. You don't have to do it the hard way anymore.
On-Time Web offers a powerful cloud-based time tracking solution that gathers accurate, real-time punches from anywhere. It takes the burden off so you can focus on more important things..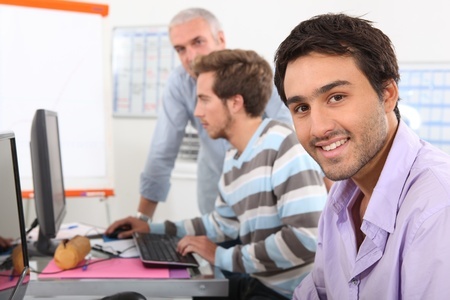 Accurate Time Collection
Whether employees use your personalized website, mobile app or on-site time clock, our software gathers every single entry. There's never any duplicate data to deal with between employees and their current employer. You choose how employees enter data, and you receive real-time data, no matter where they're working for the day.
Customize For Different Industries
Temporary staffing agencies work with a wide variety of industries. While most time tracking software is designed to be used with a single industry, our software allows you to easily change the default costing labels to represent better the industries your employees work in. This makes reporting and costing much easier.
Add Time Clocks To Any Location
Every employer you work with may use their own method of time reporting. It could be paperwork or a random spreadsheet. With On-Time Web, you can place our time clocks at any employer and gather punches that way. The data is immediately uploaded to our servers for you to view at your company's website. This means no more waiting for employers to hand over data.
Create Reports For Employers
Forget about trying to gather data to create reports for employers manually. All you have to do is filter your data by employer and employee to create custom reports for any employers quickly. You save time and can offer detailed data rapidly.
Collect Punches With A Mobile App
If an employer doesn't want a time clock or an employee will be working out in the field, use our mobile app to gather punches. With just a few clicks, an employee can enter their time. No more having to write it down and turn in paperwork at the end of the day or week.
Track Employees With Multiple Employers
Some employees may work with multiple employers throughout the week. This could make payroll a hassle. On-Time Web's system makes this easy. All punches, whether entered through time clocks or manually, are gathered in one place along with any costing details. It's easy to determine how many hours employees worked with each employer with a few simple clicks.
Tired of tracking employee time the old way? Contact On-Time Web today for more information.