YOU GOT OUR POSTCARD!
Thanks for taking the time to check out On-Time Web. We'd love to help you get started! Click the button below to schedule your FREE, no-pressure, consultation.
Award-Winning Employee Timesheet and Leave Tracking Software
SAY HELLO TO EMPLOYEE TIME TRACKING MADE SIMPLE
On-Time Web™ is a web timesheet software solution that puts the power of employee time tracking, employee leave tracking and project tracking at your fingertips. The extensive available features, rich customization and simple payroll integration make our timesheet software the perfect choice for small businesses while the scaling architecture and employee-based pricing make it an easy choice for enterprise solutions.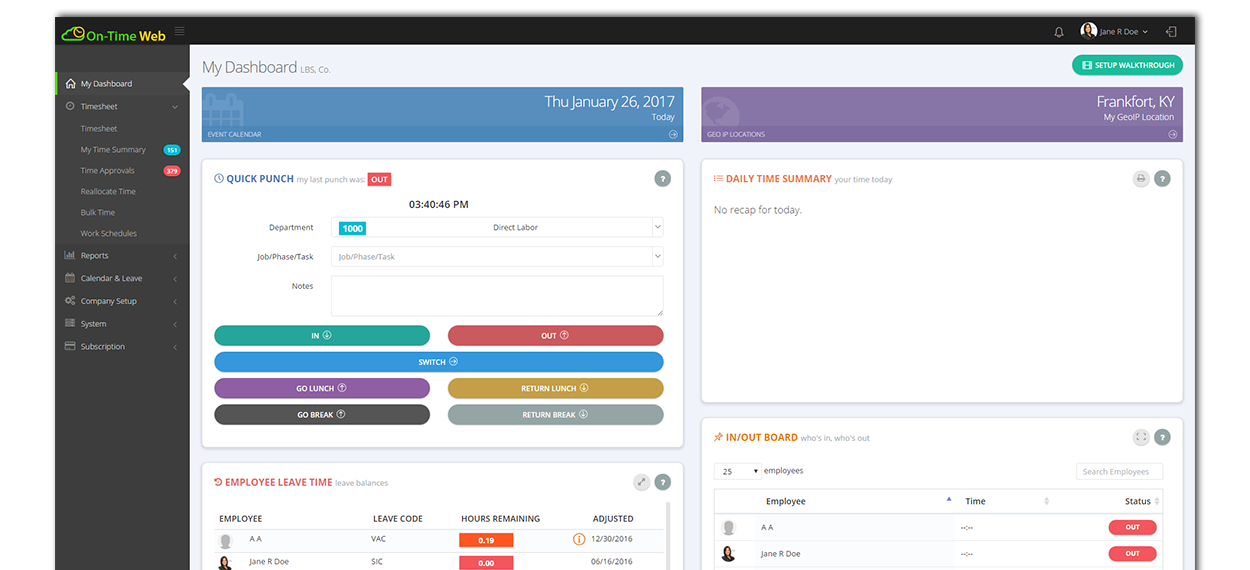 Any Device. Anywhere.
Track time from any device
Our employee timesheet and leave tracking software's modern user interface turns any desktop web browser into a powerful time tracker.
The On-Time Web Android and iPhone mobile time tracking apps include GPS location tracking and allow employees to punch or enter their time. They can also submit leave requests, view approved timesheets and see their dashboard.
The same mobile time tracking apps also have a supervisor mode, which allows the manager to make timesheet entries for all or some of their employees all at once.
The On-Time Web time clock mobile app for Android tablets works like a traditional time clock hanging on the wall.
Our OT1000 Smart Web Time Clock is a traditional time clock that can also work offline. Employees use RFID badges to make timesheet punches. Perfect for factories and the manufacturing industry!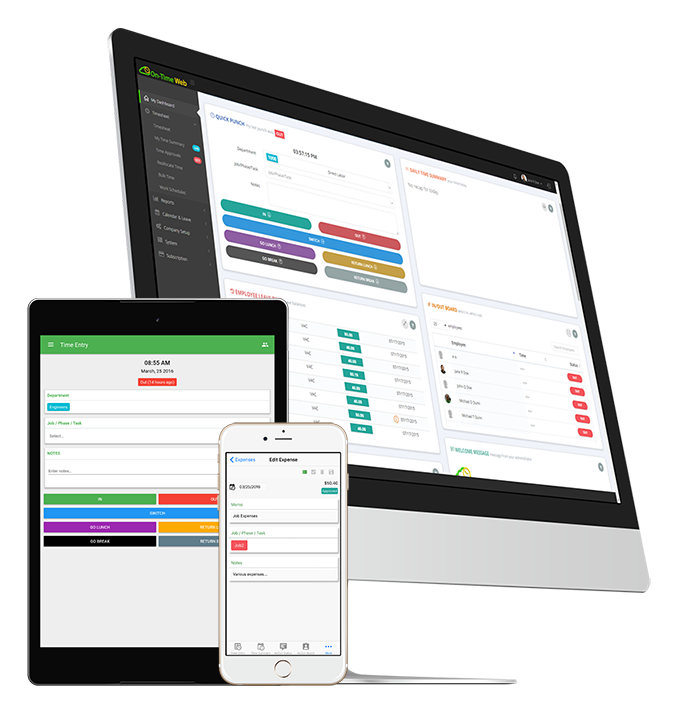 PERFECT FOR ANY SIZE COMPANY AND INDUSTRY
Competitive Pricing
There is no extra software to purchase or base fees in order to use our web timesheet software. Included training, unlimited support and free consulting allows us to be competitive and affordable when it comes to our prices.
Payroll Integration
Our easy to setup integration to your current payroll system, service or other software guarantees payroll is done in a timely manner. Allow our support staff to help with your time tracking integration needs.