New Final Rule Overtime Law – Are You Ready?
In 2014, President Obama directed the Secretary of Labor to update the overtime regulations to reflect the original intent of the Fair Labor Standards Act (FLSA), and to simplify and modernize the rules so they're easier for workers and businesses to understand and apply. On December 1, 2016 this new federal rule goes into effect that will change how salaried employees receive overtime.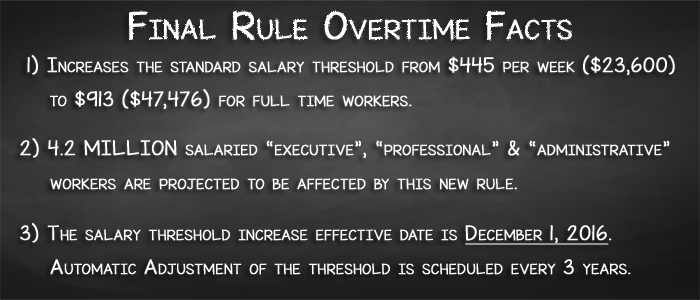 The Final Rule Regulations
The Final Rule increases the salary level required for exemption to ensure that the FLSA's intended overtime protections are fully implemented, and to simplify the identification of overtime-protected employees, thus making the "white collar" exemption easier for employers and workers to understand and apply. Without intervening action by their employers, it extends the right to overtime pay to an estimated 4.2 million workers who are currently exempt. It also strengthens existing overtime protections for 5.7 million additional white collar salaried workers and 3.2 million salaried blue collar workers whose entitlement to overtime pay will no longer rely on the application of the duties test.1 Specifically, the Final Rule:
Sets the standard salary level from $455 to $913 per week or $47,476 annually for a full-year salaried worker;1
Establishes a mechanism for automatically updating the salary and compensation levels every three years based on wage growth over time, increasing predictability.1
Sets the total annual compensation requirement for highly compensated employees (HCE) subject to a minimal duties test to the annual equivalent of the 90th percentile of full-time salaried workers nationally, which is $134,004.1
Additionally, the Final Rule amends the salary basis test to allow employers to use non-discretionary bonuses and incentive payments (including commissions) to satisfy up to 10 percent of the new standard salary level.
Responding to Change
Employers have a wide range of options for responding to the changes to the salary level, and the Department of Labor does not dictate or recommend any method. Organizations may ensure compliance for those employees affected by the Final Rule in a number of ways, including providing pay raises that increase workers' salaries to the new threshold, spreading employment by reducing or eliminating work hours of individual employees working over 40 hours per week for which no overtime is being paid, or paying overtime.1 Some potential responses are:
Get Instant Access to our Checklist
Are you ready?
December 1, 2016 is quickly approaching and some employers don't know if they are ready for the new regulations. One must is making sure timekeeping policies are updated and employers should start tracking their exempt salary employees' hours. Using a robust
employee time tracking system
ensures that all overtime regulations are met. Updated timekeeping policies is just one of the things you need to know. Download our 8 point checklist now by completing the form below to make sure you are ready.